Many small business owners feel, deep down, that they're wasting their time muddling through social media. If you find yourself in this frustrated group, don't despair. Your social success may improve simply by adding relevant hashtags to your posts.
This blog post explains how to find/create relevant hashtags, where to put them and why you should use them. It's also a "quick start guide" on expressive, humorous, brand and campaign hashtags.
Let's get started.
In a nutshell, you will simply publish your posts/tweets and include hashtags at the beginning, middle or end of them from a "public social media account."
How can Hashtags help my business?
Hashtags will help your company categorize your social media posts, making them more visible to people interested in your topic. They were first created on Twitter, a social network where posts are called Tweets and are currently limited to 280 characters. Since space is limited there, hashtags make perfect sense on Twitter. They help explain what you're writing about, while using very little space. Hashtags are now commonly used by companies across most major social networks.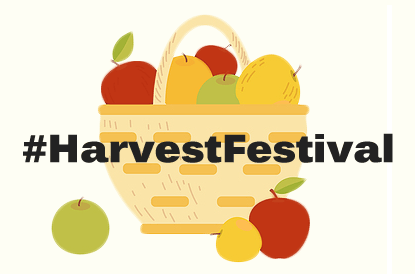 Hashtags are powerful, clickable and often expressive.
They are powerful because they make your brand discoverable.
Hashtags are clickable. If you click on one, you'll see a list of all the recent posts that include that hashtag. From this page, you can then click on other posts with the same hashtag and discover other brands and people with the same interests.
Hashtags can be expressive. They can add humor or other emotions to a post. Women are more likely to use "expressive" hashtags, often with subtle, clever jokes.
Hashtag Examples
GENERAL – #quote, #nature, #hurricane
SPECIFIC – #HurricaneMaria, #IceBucketChallenge
INSPIRATIONAL- #MondayMotivation, #ThrowbackThursday
HUMOROUS – #FunnyMoments, #MomQuotes, #lobstah
EVENT – #HarvestFestival
Who Sees my Social Media Posts?
Your posts/tweets WITHOUT hashtags will likely only be seen by those already engaged with your company.
Your posts/tweets WITH a hashtag will be more visible to anyone searching for that hashtag. They may come across your post/tweet.
How would Potential Customers find me?
Potential customers may be searching through hashtags on a social site.
If you use the right tag, they may spot your company in a list on a hashtag page.
This may motivate them to follow and engage with your company.
Popular Hashtag used during the Covid-19 Pandemic: #inthistogether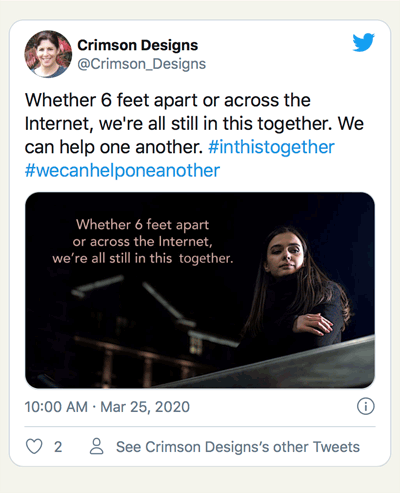 Hashtag Placement
A hashtag can be placed at the beginning, middle or end of your social media post or comment.
Hashtag Creation
You can create your own hashtags
You can find hashtags that are popular in your industry.
Keep in mind, that if you use only general non-specific existing hashtags, your content could get lost in the crowd.
Start with the Pound Sign (#)
Adding a pound sign # (or hash) turns the words that follow it (without spaces) into a searchable link. A hashtag can include numbers, but not spaces, special characters or punctuation marks. The first letters of the words in a Twitter Hashtag are often capitalized. On Instagram, they are not.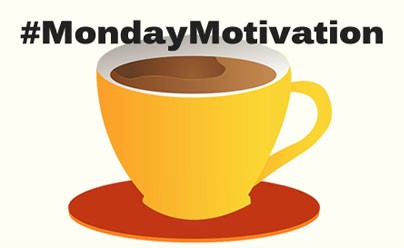 Try to keep your hashtags short, simple and memorable.
On Twitter? Adding two or three hashtags is plenty.
On Instagram? A much longer list is acceptable and commonplace, but if you overdo it, you'll not only risk annoying your followers, your account may being categorized as "spam."
Before you Tag
Before you tag, look online to see how the tag has been used in the past. (Does it have any negative connotations?)
Study the words in it to look for other meanings. (Read it out loud.)
Look at your competitors to see what hashtags they're using.
Visit a website like AllHashtag to see the top hashtags being used in your industry right now.
Use the Search Feature in any social network to research hashtags.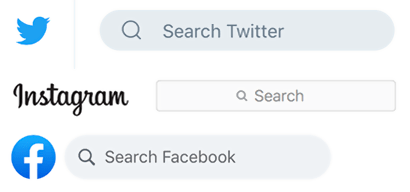 Twitter
On Twitter, you can type a hashtag you are thinking about into the search box in the top right-hand corner of your screen (on a desktop computer) to see a page of results. Also see trending hashtags in Twitter's trending topics section. The first letters in the words in a Twitter Hashtag are often capitalized.
Instagram
Hashtags are popular on Instagram. You can add them in the caption or comments of your post. The letters in an Instagram Hashtag are often all lowercase. Keep in mind, on Instagram, you must have a quality image to go with your hashtags. The image is front and center. If you have a photo that is eye-catching and evokes emotions such as laughter, try to add hashtags that fit that emotion or tone, especially if they add further explanation to the photo.
Facebook
Hashtags can be used on Facebook too, but unlike Twitter and Instagram, most users' Facebook accounts are private. So Facebook hashtags tend to be used more often by brands and influencers.
Here is a Facebook example with the hashtag: #WebDesign.
Hashtag Humor
A dash of subtle hashtag humor may be just what you need to increase your post engagements and shareability. See Hashtag Humor – Am I Funny Enough?
Adding an "amusing" hashtag to a light-hearted post/tweet can make your company seem more relatable. It will help you humanize your brand. Take Charmin's #tweetfromtheseat and #enjoythego hashtags. They're silly and successfully marketed.
STATISTIC: Social media users are more likely to share a funny post than a serious one.
The #throwbackthursday Hashtag
The #throwbackthursday (throwback Thursday) hashtag is used by people and brands alike to post amusing or interesting photos from the past. It's a positive, feel-good kind of hashtag that any small business can use.
In this example, Sakhumzi Restaurant uses the "Throwback Thursday" hashtag. It also uses #SakhumziRestaurant and #ThrowbackSakhumzi hashtags, then encourages its followers to use both tags and post their own fond memories of the restaurant.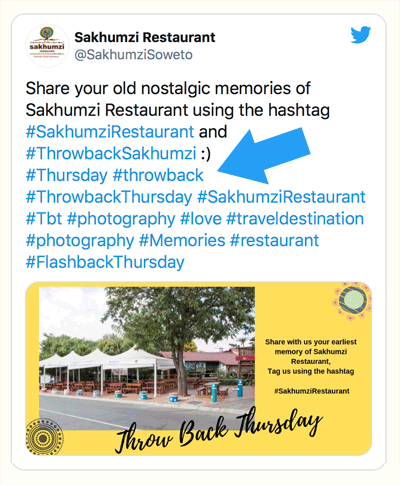 Branded Hashtags
If you really want your small business to stand out in a crowded social media space such as Twitter or Instagram, then you'll want to create a branded hashtag: one that's unique and associated with your business. It can include your company name, tagline, or the name of your products or campaigns. It could also be related to your brand identity.
Your first step is to ensure that your hashtag idea is unique and no one else is using it.
You'll also want to create one that is easy to spell so your customers will remember it.
The key is to give social media users a reason to use it in their own posts. If you can get people to use it, your company gets marketed for you.
Campaign Hashtags
A campaign hashtag is a branded hashtag made for a marketing campaign. It can be used to help promote an event, a contest or a new product.
Some brands hold contests, giving their followers the opportunity to enter one by using the specific campaign hashtag in an original post. Your small business can do the same to get others to use your hashtag.
Other brands start conversations with hashtags followers find relevant, inspiring or amusing enough to share.
Examples:
Coca-Cola's #ShareACoke
Ben & Jerry's #CaptureEuphoria
Nike's #MakeItCount
Always' #LikeAGirl
One of the most famous campaign hashtags is REI's #OptOutside. REI pays their employees to spend every Black Friday outdoors and encourages others to do the same. Social media users, inspired by the idea, began posting their own photos with the famous #OptOutside hashtag included.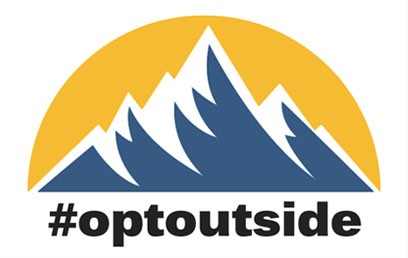 If you're brainstorming about this kind of campaign hashtag for your small business , try to pick something that triggers emotions.
One of the biggest hashtag failures to keep in the back of your mind, though, was McDonalds' #McDStories hashtag campaign. Many unhappy customers turned that hashtag on its heels into something negative. This is known as hashtag hijacking – when people use your hashtag to post negative things.
In this Hashtag Campaign Example, the company starts a contest. Rocky Mountain Equipment created a photo and video contest on Twitter and invited participants to use the hashtag: #RMEHARVEST20.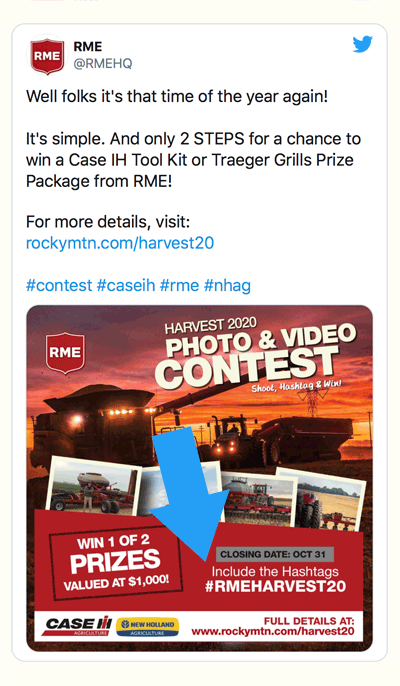 By adding hashtags to your social media posts, you'll not only draw more attention to your small business, you'll stop feeling like you're just muddling around.