I love Pinterest. It is a great social media platform for creative, visually-oriented people. It's also different from most other popular social media websites. So if you're struggling with your efforts on Facebook or Twitter, don't despair. Pinterest may be right for you.
I first blogged about Pinterest in 2012 with a blog post titled Calling all Recipe-Hating Pinterest Lovers to help spread the word that Pinterest is not just about recipes and fashion. It is a social media platform for artists, photographers, web designers and retail businesses too. The only requirement is that your Pinterest content must be visual.
You do not need friends. All boards are open and users can view any image pinned anywhere on the network. It involves the sharing of things rather than personal updates, making it easy to connect with strangers, like-minded people and similar businesses.
You don't have to leave comments. You can just follow boards and repin images. It's a fun experience to spend time there, not a social media site where you feel pressured to stay involved. That is why so many users say that they love Pinterest.
Think you're funny? You can demonstrate your sense of humor on Pinterest too. Engaging with your followers this way as a business can help humanize your brand and make it seem more approachable.
Pinterest Boards
Pinterest is easy to learn. You create bulletin boards, known as pinboards, that serve as collages of images. Each pinboard has a title, and is available for all other pinners to see. You may choose to have a board titled Business Humor, Marketing Humor or Web Design Humor where you can post images from your website and other websites. You can also browse the Pinterest platform to "repin" content others have already posted on their boards.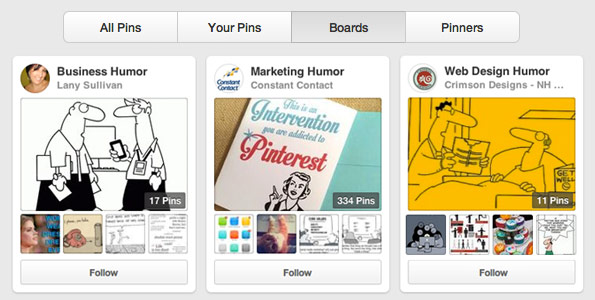 Pinterest's Analytics Tool
With Pinterest's new analytics tool, you can see your most popular boards and which of your pins get clicked through to your website. Is your sense of humor shared by others? Your Pinterest analytics tool will be brutally honest and let you know if you are funny or not. If your humor doesn't hit the mark, you can try a different strategy to engage your audience.
Through the Pinterest analytics tool, I recently discovered the popularity of my "I Love Pinterest" image from back in 2012. It sparked my interest to create something humorous, fun and Pinterest-related with it. So just for fun, I created a "Google Plus" Superhero trying to impress the Pinterest Lover. He boasts, "But I can leap the World Wide Web in a single bound."
Superheroes and Social Media Humor may not change the real world. But they could delight a follower for a brief moment during a stressful work day, making the World Wide Web just a little bit funnier.