OUR SEO Services
Crimson Designs
SEO SERVICES FOR SMALL BUSINESSES
What is the purpose of SEO?
The purpose of SEO (search engine optimization) is to make it easy for search engines to understand your website so they can recommend it for relevant searches. You also want to create a great, seamless user experience for the visitors that search engines send your way.
Crimson Designs will include onsite SEO services as we design your website. We also assist businesses and entrepreneurs looking for SEO services — after the design is complete.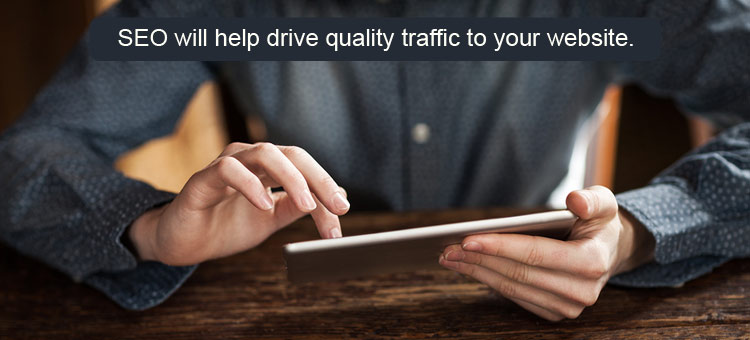 Why does your website need to be visible in search engine results pages (SERPS)?
Your website needs to be visible in "search engine result pages" to receive organic traffic. If your targeted audience can't find your site when they run a search query in Google or Bing, what's the point of creating a website? SEO will help drive that quality traffic in your direction. But, focusing solely on keywords and links is no longer enough to improve search rankings. The overall user experience that a web page creates is what counts nowadays.
Crimson Designs can help you maximize user experience on your website.
USER EXPERIENCE & SEO
First, your website will be mobile-friendly in its design. People these days use all sorts of devices to browse the web. Mobile optimization is now the norm, rather than exception.
We'll optimize page load times so that your web pages download quickly. This will include minifying your CSS and JS files, leveraging browser caching and enabling compression.
Your images will be optimized for the web.
We'll create a navigation structure that is simple and efficient. It will be easy for search engines and visitors to follow.
KEYWORDS, SOCIAL MEDIA & SEO
We will research keyword phrases related to the main topic of your site. We'll find out which ones your target market is using to find your products or services. Then we'll utilize this valuable information as we structure your web pages.
We'll work with you to fine-tune your web copy, making it enticing and easy-to-read. This will help maximize user experience. We can even help with grammar.

These are a few SEO strategies we will utilize as we optimize your website, increasing your website traffic naturally.
We won't use tricks to help you rank.
We'll start with clean, valid code and separate style sheets. Crimson Designs will also concentrate on relevant linking throughout your site as we design your search engine friendly, mobile-friendly, user friendly website.
Let us help you write your story.
More than just keywords and meta tags, it's relevant content that will improve your search engine results placement.