Maybe you've been told you need to add a Privacy Policy to your small business website… and you're wondering why and how. This beginner tutorial will help you get started.

What is a privacy policy? A privacy policy lets your website visitors know what type of data you're collecting from them, and what you're doing with it. It may also provide information about how you're collecting data, how you're storing it, and for how long. The privacy policy may also include information on who has access to their data.
Website Visitors' Peace of Mind
Your website visitors care about their privacy. They want to feel secure when providing their personal information online. Your Privacy Policy Plan and Pledge will help reassure them that you will keep their data safe. Your privacy policy will show your visitors that you can be trusted.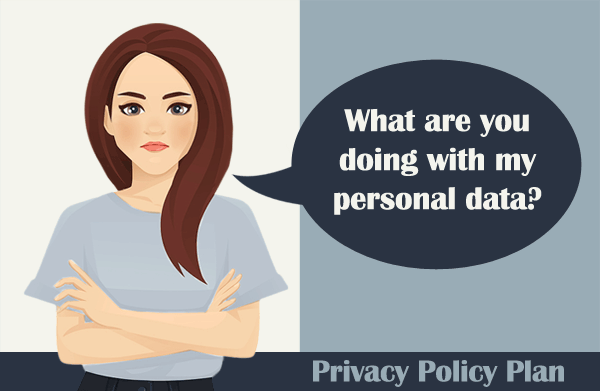 Contact Forms & Email Marketing Lists
If you have a contact form, you are collecting "Personally Identifiable Information," such as names and emails from your website visitors. It's important to be upfront about what you plan to do with that information.
If you've built an email marketing list, using a service such as Mailchimp, you're gathering personal data through that also.
Your visitors want to know that you're not going to use their email address for any other purpose besides sending them the information they requested.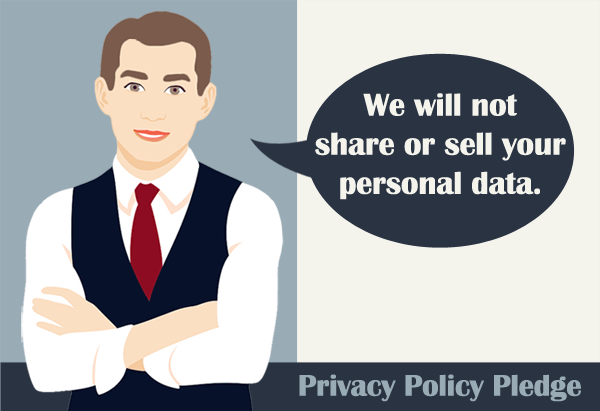 Google Analytics
If your website incorporates third-party tools such as Google Analytics to capture user data, your privacy policy needs to mention that. Google Analytics requires a Privacy Policy because is stores "cookies" on a visitor's computer (which are then used to collect data about that person).
Privacy Laws & Safeguards
Some countries and states have implemented privacy laws to protect the rights of consumers. The United States, European Union, Canada and Australia have privacy laws.
A privacy policy is not only reassuring to your website visitors, it's now required by law if you collect personal information from them.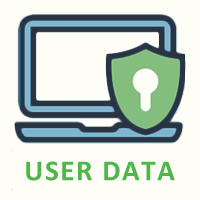 Privacy policies provide a safeguard… not only for your visitors, but also for online businesses and bloggers.
If the personal data you collect falls into the wrong hands, it can lead to fraud, SPAM, or, in some cases, identity theft. You don't want to lose your customers' trust or have to defend yourself against a lawsuit.
Safeguarding their personal data is just plain "good business."
United States & The European Union
The United States has several privacy laws in place. Many of these laws are regulated by the Federal Trade Commission (FTC).
Some states, such as California, have their own privacy policy regulations. If your website collects personal information from California residents, you must comply with the California Online Privacy Protection Act (CalOPPA) .
You must also comply with the GDPR if you "collect and process data" belonging to European Union (EU) citizens, even if your company is located in the United States.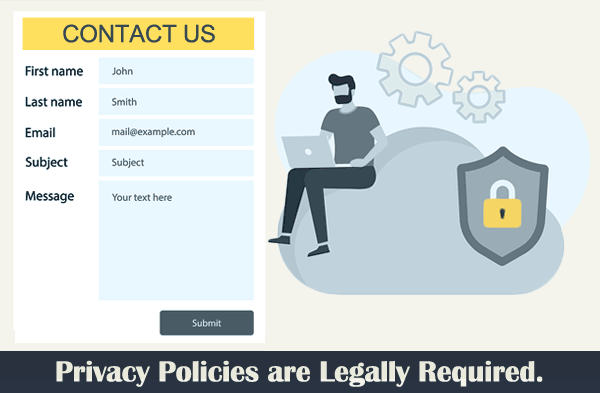 Read: Privacy Policies are legally required. 
How to Create a Privacy Policy
You could enlist the help of a lawyer to help you write your privacy policy, but that's not a practical option for most small business website owners. There are online tools that can help.
Read: The 12 Best Privacy Policy Generators Online. 
This Sample Privacy Policy  from the BBB may also help you get started. When writing your privacy policy, try to keep it clear and explicit so anyone can understand it.
(NOTE: This post is for informational purposes only and should not be considered legal advice.)
How to Link to Your Privacy Policy
Once your privacy policy page is complete, you need to include a link to it, somewhere in your website — that's easy to find. For most online businesses, you'll find a link to the privacy policy in the website footer section. It's a common practice now. Your customers will likely look for a link to your Privacy Policy at the bottom of your web pages.
Your new privacy policy page will help protect your business and your online visitors. It's a win-win situation.