Website Redesign Services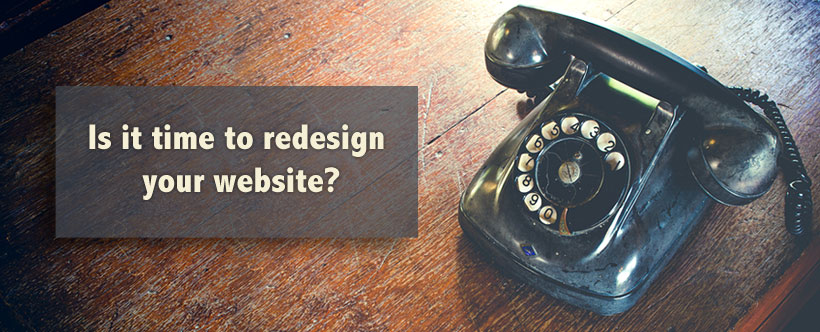 The Internet is constantly evolving.
Web content that was relevant a few years ago often looks outdated today. If you're visiting this web page, you're probably considering redesigning your website. Our website redesign service will improve your visitors' experience along with the visibility of your business website so that it can rank well in the search engines.
8 Simple Ways to Tell if your Website is Old
WEBSITE CHECKLIST
Page Titles


Check your page titles at the top of your web browser. Are they the same for every web page? If so, your website needs to be updated.

Copyright Date


Check your copyright date at the bottom of your web pages. Is the year listed out-of-date?

Page Speed


How fast do your web pages load in a browser? Is there a noticeable waiting period?


Mobile Devices


Is your website easy to read on a mobile device? Your website needs to be mobile-friendly.


Unnecessary Clutter


Are there multiple buttons, animations and other elements on your site that don't serve a real purpose? If so, removing them will increase your site's conversion rate.

Broken Links


Old websites tend to have a lot of broken links. Search engines frown upon broken links.


HTML5 Contact Forms


If your website is current, your web designer used HTML5 to code your contact form page. Does your Contact Form provide helpful hints to your visitors as they go along? If not, it may not be up-to-date.

Search Engine Rankings


What phrases (2 to 3 words) come to mind when you think of your business? If you put those phrases in the search box at a search engine page such as Google, can you find your website in the list? If your business is nowhere to be found, or worse yet, you find all your competitors in the list instead, your website definitely needs a major makeover.
See Tutorial: 8 Simple Ways to Tell if your Website is Old: Business Owner Checklist.
3 Steps In Our Website Redesign Process
Analysis


Our first step in redesigning a website is to analyze the current website. In this step, we concentrate on the functionality of the site and navigation structure. We also examine the speed in which the pages download, check for broken links, and inspect the page titles etc.. Its performance in the search engines is also checked.

Collaboration with You


We will discuss with you your expectations from your new website and briefly review your current website. By the end of this step, we have developed a website plan.

Website Redesign


Your web pages will be redesigned to be user friendly, mobile friendly and search engine friendly. We will also clean up the code, rework the content and make sure your images are optimized. We aim to make you proud of your website so that your first thought will be to show it off to friends and family.