Web Design FAQ
Small Business Guide
Our FAQ page includes answers to questions that may pop up when you're considering a small business website. Confused about some common web design terms? Wondering whether or not you can build a website on your own? Can't decide if this is the right time to redesign your site? You're not alone. We're happy to help.
Finding a Web Design Company
Is it time to redesign my business website?

We have created a business owner checklist to help you decide if it is time to redesign your website: 8 Simple Ways to Tell if your Website is Old: Business Owner Checklist.

How do I know if I need to hire a web designer?

Do the terms domain name, web host, social media, keyword phrases, SEO, HTML, and CSS still confuse you? Do you often get frustrated as you try to find your way around the internet? Do you want your website to be unique? Do you have a hectic daily schedule?

If you answered "YES" to these questions, you will likely need the assistance of a web designer. We can help. See our web design services.

How do I choose the right web designer for my company?

You need to find the "right choice" for your personality, business, location and circumstances. Here are 10 questions to keep in mind as you compare potential candidates.

See How to Choose a Web Designer.
Understanding Our Web Design Process
What are the basic steps to your web design process?

After learning about your business, we will put together an estimate for your custom website design. Once the estimate is accepted, a $200 deposit is required. We will then gather information about your business and analyze your competitors' sites. Next, we will plan your website's content structure and then gather and fine-tune your web copy.

Once it has been built, we will test it, making sure that it is mobile-friendly, downloads fast and is easy to navigate. Your website will include built-in SEO to ensure that it generates the traffic you need.  See our Small Business Web Design Services.

How long will it take to design my website?

We will do our best to set milestones for completion of your website, but it depends on your participation. If you are prompt in sending information and respond quickly to our questions, your web site may be completed in several weeks. Some websites, on the other hand, take several months to launch. It depends a lot on you!

Who owns my website after it is created?

Your new website is yours - you own it 100%. Crimson Designs reserves the right to display any development examples (web design, banner, logo or other) in our online portfolio. We also request that the links to Crimson Designs on your site will remain until the design is no longer active on the Internet.

How do I make changes to my website later on?

To edit your website you can do one of the following things:

1) Ask your web designer to make the changes. We offer website maintenance at an hourly rate of $30.

2) Include a CMS such as WordPress in your website.
Web Design Terms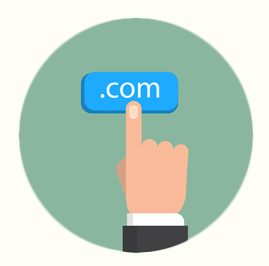 What is a domain name?

A domain name is a specific website address that you choose and register. Every website has a domain name (ex. crimsondesigns.com) which is used to access the website. Whenever you visit a website, the domain name appears in the address bar of the web browser. A domain name is part of a larger Internet address called a "URL." Domain names are easy to register, though they must be renewed every year or so. Anyone can register a domain name. See Choose your Small Business Domain Name like a Pro.

What is web hosting?

Web hosting is a place to store your web pages. Everything you see on the internet is saved on a computer somewhere. You pay a monthly fee to store your pages and have them accessible world wide. We publish your web site design project to your chosen hosting service upon completion of the design.

What is responsive web design?

It is a technique web designers use to create flexible web page layouts that change depending on the screen size of the visitor. A responsive website is mobile friendly and automatically changes to fit the screen you're reading it on. As the screen gets smaller, the content shifts to the best display for that size.

What is a CMS (Content Management System)?

A CMS or content management system (such as WordPress) will give you the ability to change your web content without messing with any code or involving your website designer. 

With a CMS, you can edit your website by going into your admin section in a web browser, opening up a web page, making changes in a WYSIWYG editor and publishing it. The edits are sent to the database and will instantly appear on your website.

With a CMS, you can make your content changes from any computer. A CMS also provides multiple user accounts and various levels of access rights.

However, it is important to know that a website built on a CMS is not maintenance free. CMS sites need to be upgraded from time to time. If content is not updated regularly, editors may forget how to go about making changes.

What is SEO (Search Engine Optimization)?

Search Engine Optimization means designing web pages in ways that ensures that they are accessible to search engines and improves their chances of being found in search engine result pages. It is a combination of on-site and off-site tactics all working together to create a high authority website.

More Questions?
Contact Crimson Designs.