Getting Started with WordPress
Getting to Know your WordPress Dashboard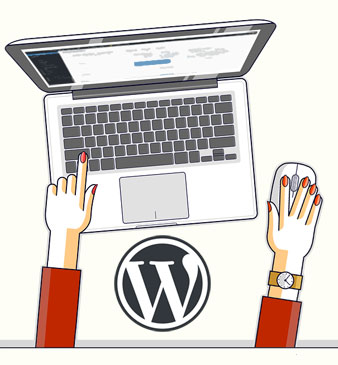 When you first log in to your WordPress Admin Section, you will see your Dashboard. The dashboard is a place where you can get an at-a-glance overview of your WordPress site and control all of the behind-the-scene details of it.
After you explore your dashboard, you'll soon get comfortable with it and realize that it's pretty easy to use and navigate.
First we'll take a look at the Dashboard home screen.
After you first log in, you'll see a top welcome box from WordPress with some quick links to help you get started.
Dashboard Screen Modules
The Dashboard Screen presents information in blocks called modules. Each module can be toggled open or closed by clicking in the top right corner. Modules can be moved up or down, or column to column.
In the screenshot below, the modules such as "At a Glance," "Quick Draft" and "Activity" are all toggled closed.

In the Dashboard Screen, there is a navigation menu called The Dashboard Menu. It is located on the LEFT SIDE of the Dashboard screen. This menu can be collapsed or expanded.

It is the long skinny vertical menu with a black background.

(NOTE: Your Dashboard Menu may appear slightly different depending on your WordPress version or your WordPress user role.)
More Dashboard Menu Views
Example #1 (below) shows a collapsed menu with icons. The icons are links to important pages in the admin section.
Example #2 shows the expanded view with text next to the icons.
Example #3 shows what the menu looks like after pressing the Posts link. You will be taken to the Posts page where you have the chance to add a new post. There is also a Pages link if you want to add a new Page instead of a new post.
If you decide to add a new post, you will be taken to the POST EDITOR.
If you decide to add a new page, you will be taken to the PAGE EDITOR.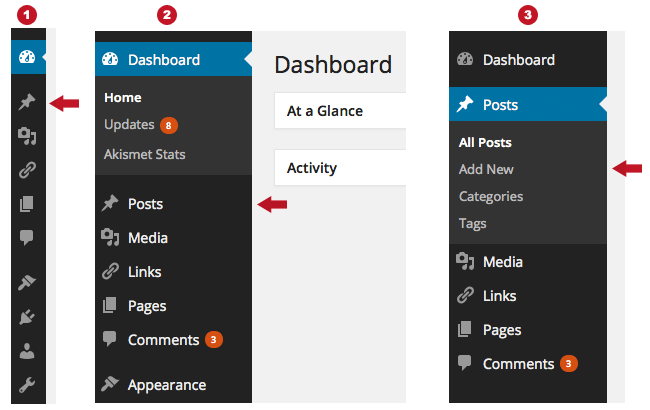 ADD NEW POST
To create a new blog post or page, simply click on Posts » Add New menu in your WordPress admin. If you are creating a page, then go to Pages » Add New menu. You will be taken to the content editor screen.
Gutenberg Editor
In WordPress 5.0, the classic content editor was replaced with a brand new BLOCK EDITOR, called Gutenberg. With this new editor, you will add a TITLE and then choose 'Blocks' to add to your post or page.

You can add blocks for headings, paragraphs, images, videos, lists, quotes and more.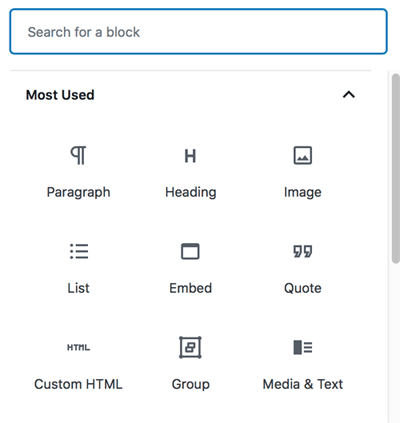 You can also move content elements up and down, edit them as individual blocks and change a block's type or style.
Adding Images to a WordPress Website
There is an IMAGE BLOCK in the WordPress GUTENBERG editor. Simply add the block in your post or page. Then upload an image file or select one from the media library. You can also drag and drop images from your computer. Once you have added an image, you will be able to see the block settings where you can add details for the image, such as a description (ALT text) and a link to the image.
SAVE DRAFT or PUBLISH YOUR POST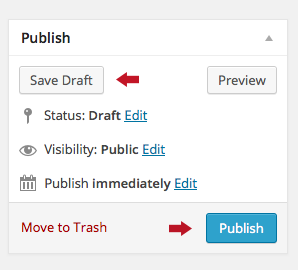 On your ADD NEW POST page, you will also see the WordPress Publish Module similar to the image on the left.

Once you type the paragraphs of your NEW POST, you will need to either press the SAVE DRAFT button to save it privately so you can work on it later... or press the PUBLISH button so that your new blog post will be visible for anyone on the internet to see.
This is a basic WordPress tutorial to help you become comfortable with your admin section. If these instructions seem relatively easy to follow, you will likely be successful with your WordPress website. If you have discovered that you're not interested in learning about the admin section, then a WordPress website may not be the right choice for you.