Newbury, New Hampshire

About Newbury, NH
Newbury is a town in Merrimack County, New Hampshire.
It had a population of 2,075 at the 2009 census.
Newbury is home to the Mount Sunapee Ski Area and part of Lake Sunapee (including Mount Sunapee State Park Beach).
Newbury has three lakes:
Lake Sunapee

is the largest lake in the region. It is located in Newbury, New London, and Sunapee, NH. This lake is 4085 acres with 29.6 miles of shoreline. It is 100 feet deep.

Lake Todd

is a peaceful lake located in Newbury and Bradford NH. It is 168 acres with 3.2 miles of shoreline and is 22 feet deep.

Lake Solitude

is a mountain lake located at the top of Sunapee Ridge between the main summit of Mount Sunapee and South Peak. It is 4.6 acres and is located in Mount Sunapee State Park. It is also a popular hiking destination.
Newbury, NH Online Businesses
Newbury Electrolysis specializes in the removal of unwanted hair for men, women, and teens. Located on Route 103 next to Lake Todd.
Elliot Hansen Associates works with both the buyer and seller to achieve customer satisfaction for all home, land, and commercial sales. Broker/Owner Elliot Hansen has been in the real estate field since 1979, full time since 1983.
Restaurants
Bubba's Bar and Grille is a restaurant located in the heart of Newbury Harbor. They offer fresh salads, hearty sandwiches, brick oven pizza, hearty entrees and an award winning seafood chowder!
Salt Hill Puboffers Irish-American comfort food, perfect pints and live music. It is located at 1407 Rt. 103, Newbury, NH.
Stores
The Tackle Shack is a fishing supply store located at 894 Route 103, Newbury, NH. They also carry camping and paintball supplies and sell hunting and fishing licenses.
Life With Ease has self-care products to help people prevent and live with injuries and impairments. It is located on Route 103.
Hotels & Inns
The Lake Inn at Mt. Sunapee has spacious, clean rooms at affordable rates with the best views of Lake Sunapee. Located on Route 103 just 1/4 mile east of the Mount Sunapee traffic circle .
Mountain Edge Resort includes luxury hotel suites, a restaurant, a spa and a fitness center. It is located on Route 103.
Best Western Sunapee Lake Lodge includes a fireplaced lobby and many guest rooms. It is located at the entrance to Mount Sunapee ski resort.

Back to Top
Newbury, NH Places of Interest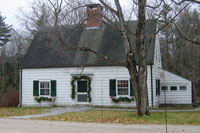 The Fells Historic Site is situated on a hillside overlooking Lake Sunapee. It is part of 876 protected acres of a forest country estate and is the former lakeside summer home of American writer and diplomat John M. Hay. This historic site is located at 456 Route 103A in Newbury, NH. The gardens and trails of The Fells are open dawn to dusk year round.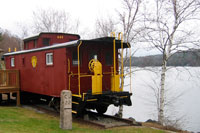 The Bell Cove Historic Caboose Museum: This is a Historical Exhibit about the Concord-Claremont railroad line that ran from the 1870's to the 1950's. The antique caboose has an extensive collection of railroad memorabilia. Open Memorial Day through Labor Day.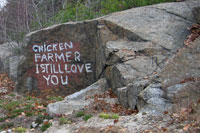 Chicken Farmer Rock: Twelve feet or so off the edge of Route 103, in South Newbury, New Hampshire there sits a flat brown-gray slab of rock. About 25 years ago, a young man secretly wrote on it in spray-painted letters,"CHICKEN FARMER, I LOVE YOU." The message endured for many years. It was repainted and renewed several times until April of 1997 when an unknown caller complained to the town.
Soon a patch of rust-colored primer was all that was left of the love letter. The sad event was the talk of the town. Then a week later the words had mysteriously reappeared, though bolder this time and in thicker letters. The townspeople then took up a petition to protect their landmark. The government responded with a letter, promising that the Chicken Rock's message would remain forever.