Responsive Web Design Portfolio
Here are some of our recent mobile friendly design projects.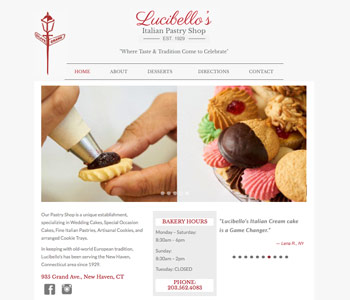 Lucibello's Italian Pastry Shop
This website was redesigned for an Italian Pastry Shop in New Haven, CT. It is a responsive, minimalistic website with the photography grabbing most of the attention of the website visitor.
The owner decided on a WordPress site so that he would have the ability to update prices on his own. It includes a pastry gallery and wedding cake gallery.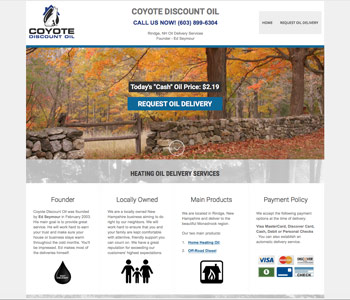 Coyote Discount Oil
This website was redesigned for a small business owner who wanted to let customers know that he didn't just offer competitive prices, but more importantly great, reliable, friendly service.
He also wanted to be sure that customers could reach him by cellphone and order a delivery of heating oil quickly and easily. So it was important to have a mobile friendly website. It also has some animation features.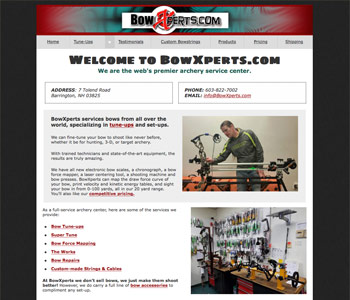 Bow Xperts
This website was redesigned for a busy business owner who had no interest in a WordPress website. It was most important to present his bow tuning services clearly and include testimonials of satisfied customers.
Because it is a "website only" business, much attention was paid to having the pages download quickly and also include simple navigation and search engine optimization.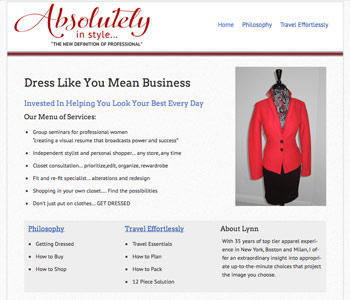 Absolutely in Style
This website was designed for an image consultant. She wanted a clean, simple layout and easy navigation. She also wanted her website to be easy to view on an iPad or mobile phone.
The website was built with a WordPress admin section to give the owner the ability to make minor changes to the content on her own.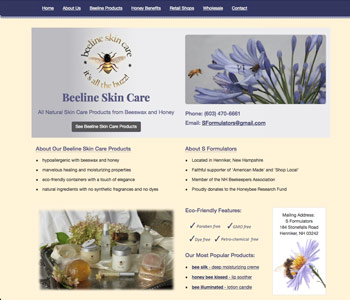 Beeline Skin Care
This website was redesigned to change the color scheme, give it a fresh look and also make it mobile friendly. It was built with Bootstrap, a popular HTML, CSS, and JS framework for developing responsive, mobile first websites.
The top navigation bar is fixed, so always remains on the screen even when visitors scroll to the bottom of a web page. The links, registration form elements, and buttons are touch-friendly. And it is a simple process to find the skin care products and check out with PayPal.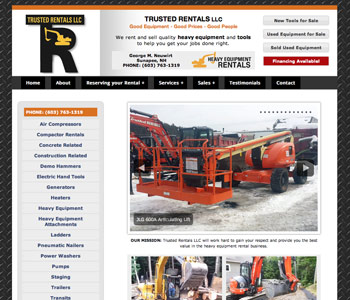 Trusted Rentals
This website has gone through some major changes to keep up with the new services the owner was trying to incorporate. Easy navigation was important as the site was growing quickly.
It was suggested to the owner that the site should be made friendly to those on mobile devices who may need to rent a piece of equipment spur-of-the-moment. They may be on a jobsite far away from a computer, but within easy access to a cell phone. Visitors can now rent a machine or tool from this company through their smart phone within minutes.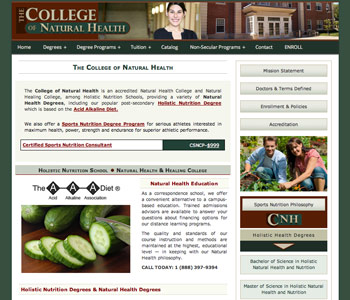 College of Natural Health
This owner of this website received Google warnings that the website was not mobile friendly and requested a responsive design as a result of those warnings.
This site was redesigned and major changes were made to the navigation menus to make the links easy to tap for those on mobile devices.
The enrollment and contact forms were also redesigned to make them easier to fill out for visitors on cell phones and tablets.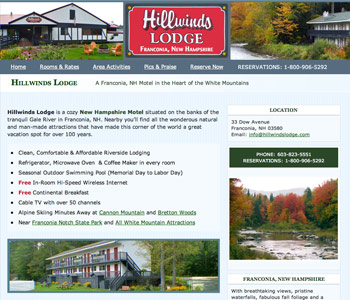 Hillwinds Lodge
Hillwinds Lodge requested a redesign of their website to one where they would be able to make some of the edits themselves. A Wordpress CMS was used to give them those capabilities.
A mobile friendly web design was critically important for this kind of business. People travelling often make last minute decisions about where they will stay for the night, or else they arrive and decide they don't like the hotel. They often have their cell phones handy and will search for an alternative. A hotel or motel with a mobile friendly website will likely be the first one called.