What is Responsive Web Design?
When you view your business website on the browser of a mobile device, does it require pinching, zooming and scrolling with your fingertips to see what's on the page?
On a tiny smartphone screen, do the large images on your site "break" the layout?
Do you find that interacting with your website is awkward and clumsy on an iPad?
Then your next website should include a responsive design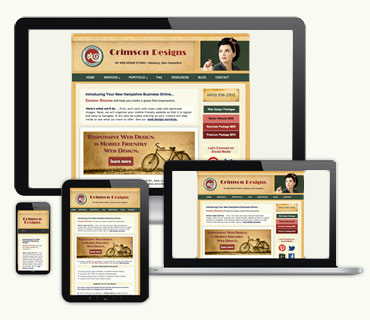 What is responsive web design? It is a technique web designers use to create flexible web page layouts that change depending on the screen size of the visitor. A responsive website automatically changes to fit the device you're reading it on, making it mobile friendly. As the screen gets smaller, the content shifts to the best display for that screen size.

There are four general screen sizes:
the

widescreen desktop monitor

the

laptop

the

tablet

the

mobile phone
Because responsive web design changes the shape and size of a website based on the device you are using, it provides a better website experience. It also eliminates the need for multiple versions of your website.
Take Google's mobile friendly test. This test will tell you more about how Googlebot will see your page. If your website passes the test, you will see a green message that says "Awesome! This page is mobile-friendly." If it does not pass, the message will be red and say "Not mobile-friendly."
You don't need a separate mobile design for your website. You need a mobile-friendly responsive web design. See our recent responsive design projects.