So you've got a small business, a website and a handful of social media accounts. Your business has taken off. Your website also gets a lot of traffic. It's mobile friendly now, you're proud to say. But when it comes to social media, you scratch your head. You've seen few benefits up to this point.
This simple guide could be that friendly little nudge you need to take another look at Twitter. Let's give it another chance.
We'll start with a quick summary. Then we'll throw in a fun scenario to jazz it up a bit. You'll see two possible endings. One is optimistic and encouraging; the other will be a blunt, somewhat harsh recommendation. Let's see how the story ends for you.
Here's the quick summary.
Basically, Twitter is a platform where users communicate in 140 or fewer characters. According to Twitter, it is no longer a social network. It's a real-time, personalized news service. (Most people describe it as a social network.) Twitter is fast-paced. You can join or start a conversation with a simple Tweet. If you see something you like, you can retweet it to spread the word. If you really like what someone else is posting, you can follow that account. See an interesting Hashtag? Click on it and find out what everyone's talking about. Hashtags connect Tweets that talk about the same thing in one place.
Okay. The summary is the easy part. But it gets harder.
Tweeting is a pretty simple concept, but Tweeting successfully to gain followers and attention in the Twitter stream is a whole new ballgame. Perhaps, you've been trying to join the conversation, but deep down, you feel alone.
Twitter Loneliness: It's like standing in the corner of a crowded room full of outgoing people. They're chatting all around you in this party-like atmosphere. There you are in the corner, leaning against a wall, holding a sweaty plastic cup of diluted red punch with melting ice cubes.
Let's rethink your approach. Get ready to Tweet.
For a moment, let's say that you sell "eyewear."
You're excited about a particular pair of trendy sunglasses: your newest product. You could mention them at that party. You could also mention them on Twitter. But how you bring them up can make all the difference in both places. You basically want to convince people that you've got one heck of a product, gently persuading them to want to know more.

Let's mention them in a TWEET.
TWEET: What better way to celebrate the sun's rays than slipping on a sleek pair of shades? Boaters and beachgoers love our new polarized lenses.
Be sure to communicate your message in 140 characters or less.
Need a quick way to count 140 characters? Try LetterCount:  This is a free online calculator which counts the number of characters in a text.
A concise Tweet makes an impact. Can you make that Tweet shorter?
TWEET: Celebrate the sun's rays with a sleek pair of shades. Beachgoers love our polarized lenses.
Great. Now you're wondering about those tortoiseshell wood-framed glasses. Thinking about promoting those next?
Don't do it.
Try to follow the 80/20 rule. Post four informative or entertaining tweets for every promotional tweet. If you try to SELL your products on Twitter all the time, you're going to be ignored.
Tweet with Photos
You can now attach an image to your Tweet without it impacting on your total Tweet character count. You can also add up to four photos in one post. That's good news.
Adding attention-grabbing, unique images to your Tweets adds a touch of personality and leads to higher Tweet engagement rates. Tweets with images get 150% more Retweets.. They'll also help you stand out in the Twitter feed. Try adding an image with a quote that is subtly related to your business.
How about this TWEET for the eyewear company? It includes a quote, an image and subtly promotes sunglasses.
TWEET: I am happy anywhere I can see the ocean. How about you?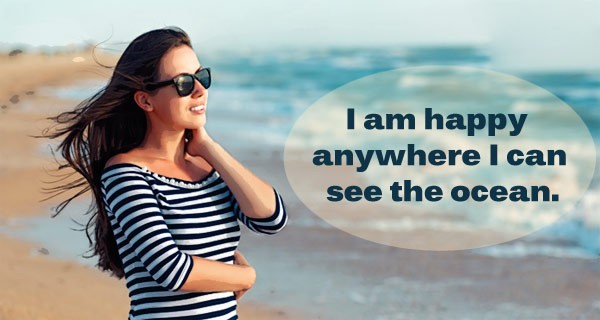 Quick Tip: have your camera or iPhone ready because you never know when that perfect moment for a humorous or entertaining shot is going to take place.
See: 4 do's & don't's of Twitter images.
Use Hashtags
You can insert your own remarks into the conversation by including a Hashtag in one of your Tweets. Hashtags start with a #. Tweets with Hashtags get 2X more engagement.
Let's use the hashtag #sunglasses for our eyewear company.
TWEET: Everything is 10 times cooler with sunglasses. #sunglasses
TWEET: Hey… it's #NationalSunglassesDay. There really is such a thing. #sunglasses
TWEET: Wearing #sunglasses protects your eyes against harmful UV rays. #NationalSunglassesDay
Any Twitter user who is following those terms will see your comment in the Hashtag's feed. Hashtags will help you expand your reach. Don't get carried away, though. Add no more than two Hashtags per Tweet.
See: The Do's and Don'ts of How to Use Hashtags
Have a lot to say?
Type your Tweet. Then include a link to a blog post on your website if you have more to say on the subject.
TWEET: Every pair of glasses purchased helps a child in need to see again.
(Add a link to a blog post that explains how 10% of your net profits help kids in need.)
Share links to Other Websites. Add some humor.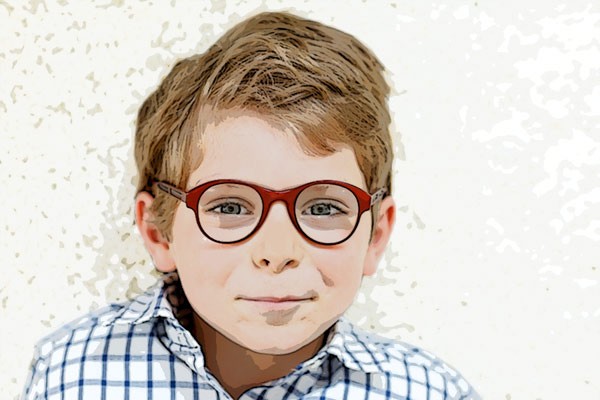 Retweet Others
Remember our scenario? You're standing with that diluted cup of punch (or maybe something stronger)? What went wrong? You were talking too much about yourself. You went on and on about 100% UV protection and scratch-resistant coatings. It was a real turnoff to others. A bit narcissistic. So how do you change other people's perception of you?
If you're at a party, you listen, ask questions, pay attention to what others say. On Twitter, you Retweet.
When you retweet somebody else's Tweet, that retweet will appear on your followers' timelines. You can share a good tweet without having to think it up yourself. It's also a nice compliment to someone else on Twitter.
Even better, add your own ideas to that retweet by adding a short message of your own. Add a Hashtag to your remark if it makes sense. Twitter lets you add 140 characters of your own when you retweet someone else's original tweet. Your comment will show up above theirs. It's a great way to show your personality and get connected.
Like a Tweet
Another way to interact with a Tweet is to LIKE it. You do this by clicking on the little heart at the bottom of a tweet. This is next to the retweet icon. It's easy to give a little LOVE like this with the click of a button.
Here's a innovative Tweet from a UK company. The Tweet encourages followers to click Like if they prefer Tortoiseshell glasses or Retweet instead if they prefer colors. At the bottom of the screen, they have 1 Reply, 4 Retweets and 6 Likes.

Now I can see, you have a smidgen of interest now.
You're convinced that you won't be standing alone at a party (or on Twitter) every again. You have some fresh new ideas to Tweet. You'll try one or two Hashtags, but not smother your Tweets with them. You're going to share articles and arm yourself with a camera.
But wait. There's a bit more. And don't forget the happy or harsh ending.
Think Before You Tweet
Unfortunately, at this point in time, YOU CANNOT EDIT TWEETS. So be sure that your next tweet is appropriate, professional and well-written. Write your tweet. Read it a few times. Then post it. You can delete a Tweet, but not fix one that you've posted.
Growth Hacking
How many Twitter followers do you have right now? Higher numbers help. Higher numbers make more people believe that your account is worth following. More followers bring more followers. Take some time to seek out related companies and individuals and follow those accounts. Many will end up "following you." This practice is called "growth hacking." It takes time to build your followers count, though, so be patient.
Use the Search Bar
You can join the conversation just by searching for topic keywords or Hashtags. If you want to learn more about growth hacking, for example, type #growthhacking into the search box at the top of the page. Searching for a specific Hashtag in the search bar will bring up a stream of any tweet that contains it. You may get some new ideas on what to tweet, just by using the search bar.
Check your Stats on Twitter Analytics
You're ready to Tweet again… with a bit more zeal. How about committing to 4 new tweets this week? Okay, how about this month instead? Once you do, you can check Twitter analytics to see how your tweets performed. It's super easy to access and will help you plan your future Twitter efforts. Discouraged by what you see? Don't be. If you stick with your plan, you'll slowly learn what works and what doesn't.
Your Twitter analytics page is easy to find. Go to analytics.twitter.com.
See: A Beginner's Guide to Twitter Analytics
Another Analytics Tool
You may also want to take a look at Twitonomy.  It's a Twitter analytics tool that will help you monitor, manage, track and optimize your activities on Twitter. You can also use it to analyze your competitors.
You've reached the end.
Remember the two versions?
Here's the first version. It's a happy one.
Hopefully, you've been reading along and didn't just skip to the end to see the harsh recommendation. If you've been reading along, chances are that you will actually go to Twitter – maybe today, maybe tomorrow, but at least by this weekend. You'll take another look at it, give it another chance and try at least 4 new tweets this month. With a little effort, it could become your company's go-to site, your favorite place to connect with others, your social media darling. Congratulations! It's a happy ending for you. See you on Twitter.
This is the alternate harsh ending.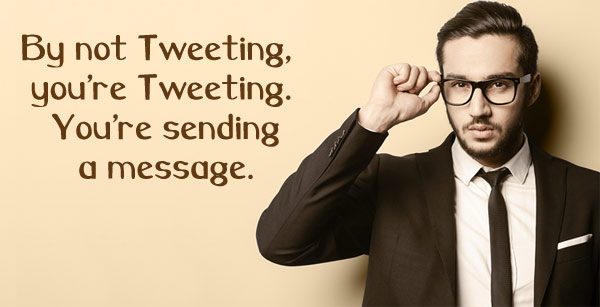 On the off chance that someone has skipped straight to the end with a quick scroll down the page, this alternate ending is for you. It's also for the skimmer with no real intention of doing anything more with their neglected account.
If your Twitter account has been stagnant since 2014, your best bet is to DELETE IT. It's doing you no good. It's also giving people a bad impression of your company.
Admit it. You're the one standing alone, leaning against a wall. Your tropical punch is lukewarm now, your palms sweaty. Why put yourself through that agony? You'd be better off leaving the party and going back to your office where you can get something done.
(#TwitterLoneliness)
See also: Twitter Pros & Cons for a Business.