Entering the world of Social Media can be a daunting task for the uninspired and perplexed Business Owner. Each social media network uses different terminology and has its own set of rules. But they also have a lot in common.
If you are feeling slightly overwhelmed about the whole subject, yet you feel compelled to jump in… (mostly because all of your business competitors have already done so), this Beginner Social Media Tutorial is for you. These 5 Simple Steps will help you understand the basics of Social Media Business Pages so you can get started with a bit more confidence and maybe a little enthusiasm to boot.
Step 1: Choose your Social Media Platform
Once you choose a social media platform, you need to create a profile.

Step 2: Create a Personal Profile Before you Create a Business Profile.
Your Profile gives your followers some detailed information about your business. Almost all social media networks (with the exception of Twitter) have different versions for Personal and Business Profiles. For Facebook and Google+, a Business Page is owned by a Personal Profile, so you need to first create your Personal Profile first. On Twitter, there is no distinction between a Personal and a Business account. It's easy and fast to get started on Twitter.
Facebook has the Facebook Business Page, Google+ has the Google+ Brands and Pinterest has Pinterest for Business.
Setting Up Your Social Media Profile
Fill out everything you can in your Profile with quality descriptions and accurate information. Facebook and LinkedIn have more profile fields than most other platforms, so they will take the longest to complete. Pay attention to detail.
Step 3: Add a Profile Pic and Cover Photo.
Profile Pics (photos)
The Profile Picture (pic) appears as a SMALL SQUARE or CIRCLE on your Business Page. Each of your social media networks should have the same, or similar, professional Profile Pictures to maintain consistent branding. The photo should also be the correct size and not distorted or blurry. Don't settle for FUZZY IMAGES or the DEFAULT PROFILE PHOTO (such as the famous Egg in Twitter).
Cover Photos
The Cover Photo is the other really important image for your page. The Cover Photo spreads across the entire top of your Profile Page. It should be carefully crafted to meet the REQUIRED IMAGE SPECS and look professional. Your Cover Photo must also follow the rules of the social network that it is on. (According to Facebook, Cover Photos can't be deceptive, misleading, or infringe on anyone else's copyright.)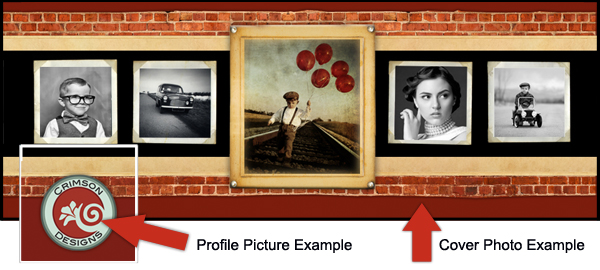 Fourth Step: Add an Update/Post/Story to your Page
So now you've picked a social network, filled out your profile and added your Profile Pic and Cover Photo. Once completed, you can start to add your Updates/Posts/Stories to your page.
Things to Consider when Writing your Social Media Posts/Stories
Write helpful content in your posts. Add a dash of humor.
Use images with your posts.
Try posting different types of content on your different social networks, if possible. Don't copy one post and add it to all of your social networks.
Share your own content on a one-to-four ratio. It is important to share interesting content from a number of websites, not just your own.
Profile Pages and News Feeds
Your Profile Page (Timeline) – the page you see if you click your THUMBNAIL at the TOP RIGHT CORNER of your home page. It displays your own page of content in a reverse-chronological timeline. Only your posts/stories will appear on this page. It is basically a list of all your updates.
Your Profile Page is all about you. The News Feed is not.
News Feed / Wall / (Google Plus Stream) – A news feed is literally a page full of news/posts. Your News Feed is the page where you can see all the latest updates from the people and businesses you follow. The News Feed may have different names on different social media networks, but the idea is the same. Your main goal is to get your posts to appear on other people's "News Feeds." In order to do that, they must FOLLOW your page.
Fifth Step: Follow Other Businesses / People
So how do you get others to FOLLOW your page? Start by "following" other businesses/people – in other words sign up to read their posts. The word "FOLLOW" is used in Twitter, Pinterest and Google+. On Facebook, you "LIKE" a business page instead. Once you have quality content to share and you start following other businesses, others businesses and hopefully people will FOLLOW you too.
Keep in mind, though, that just because people begin to FOLLOW your page, it does not mean instant success. People need to interact with your page in order for you to be successful with your social media efforts.
Someone may LIKE one of your posts (or +1 it in Google+). That is good news.
They may COMMENT on your post. That is even better!
Or they may do the ultimate act of kindness and SHARE your post (or Retweet it if you are on Twitter). That means that they like it enough to show it to their connections.
So don't forget to LIKE, COMMENT ON and SHARE others posts as well. That is how you CONNECT on social media.
Are you ready now to take your First Steps into the world of Social Media? Remember to pick your social media network, fill out your business information (BIO) in your Profile Page, and upload your Profile Pic and Cover Photo. Once you do that, you are ready to JUMP INTO YOUR SOCIAL NETWORK without hesitation and create your very first Post. See you there!